Family Aquatic Center: Outdoor Swimming Lessons
The Learn to Swim Program is designed to enhance each participant's ability to progress from one level to the next. It is not unusual for a child to repeat a level more than once before passing. Attention span is also a key skill in passing from one level to the next. All summer swimming lessons are taught at the Family Aquatic Center in Community Park and will be held rain or shine.
Swim lessons are held rain or shine. In the case of rain, a water safety video will be shown and safety instruction will be taught inside Community Rec. Center
There will be no swim lessons on July 4.
The Swim Coordinator reserves the right to reassign any student's class based on ability level.
For a copy of the 2017 outdoor swimming lessons, click here.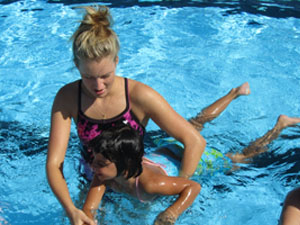 Addison Park District
Family Aquatic Center
120 E. Oak Street
Addison, IL 60101
Phone: (630) 233-7275

Family Aquatic Center is a wheelchair accessible facility.