Effective Monday, August 30, the Governor Pritzker has instituted a state-wide face mask mandate.
All Addison Park District staff and patrons are required to wear a face covering while indoors at any Park District facilities, regardless of vaccination status.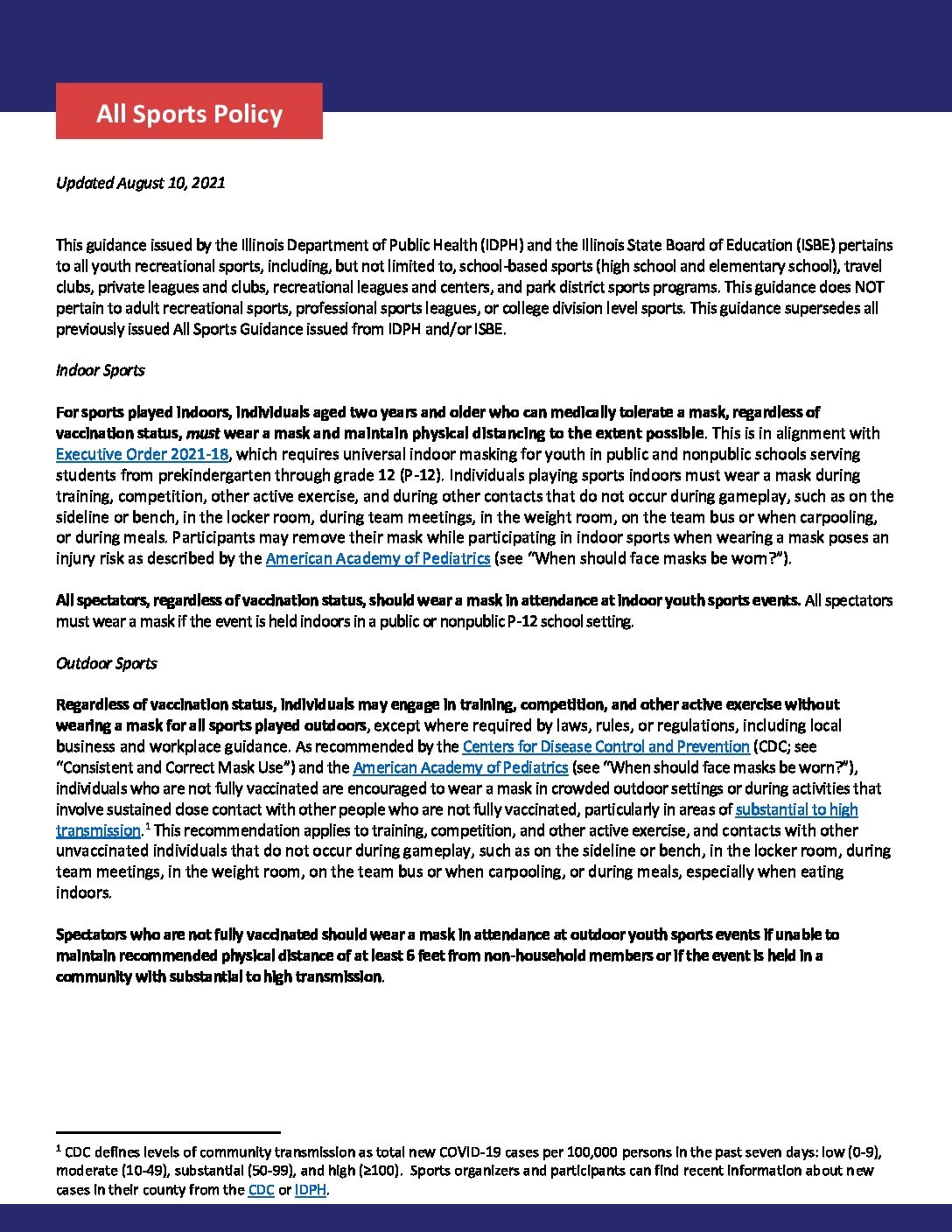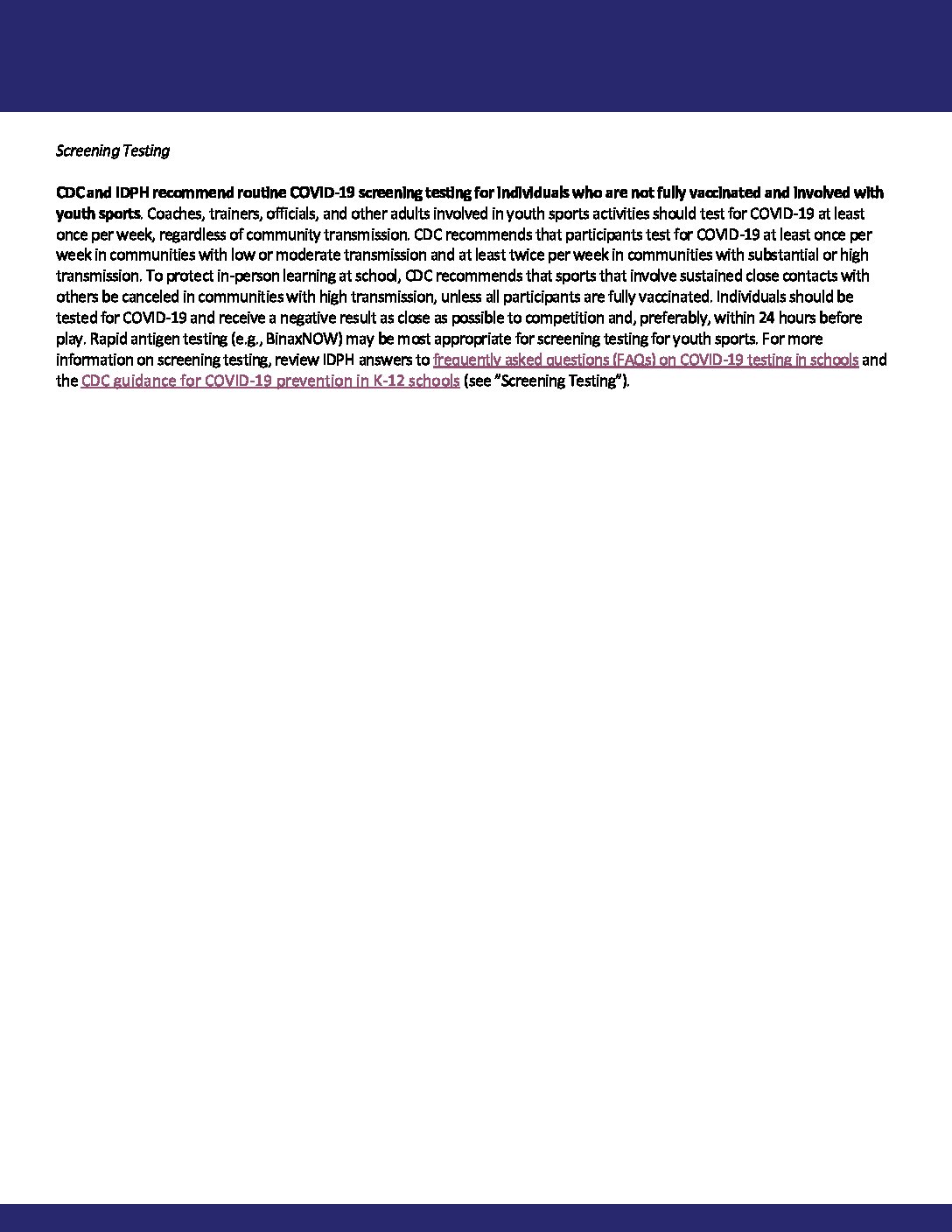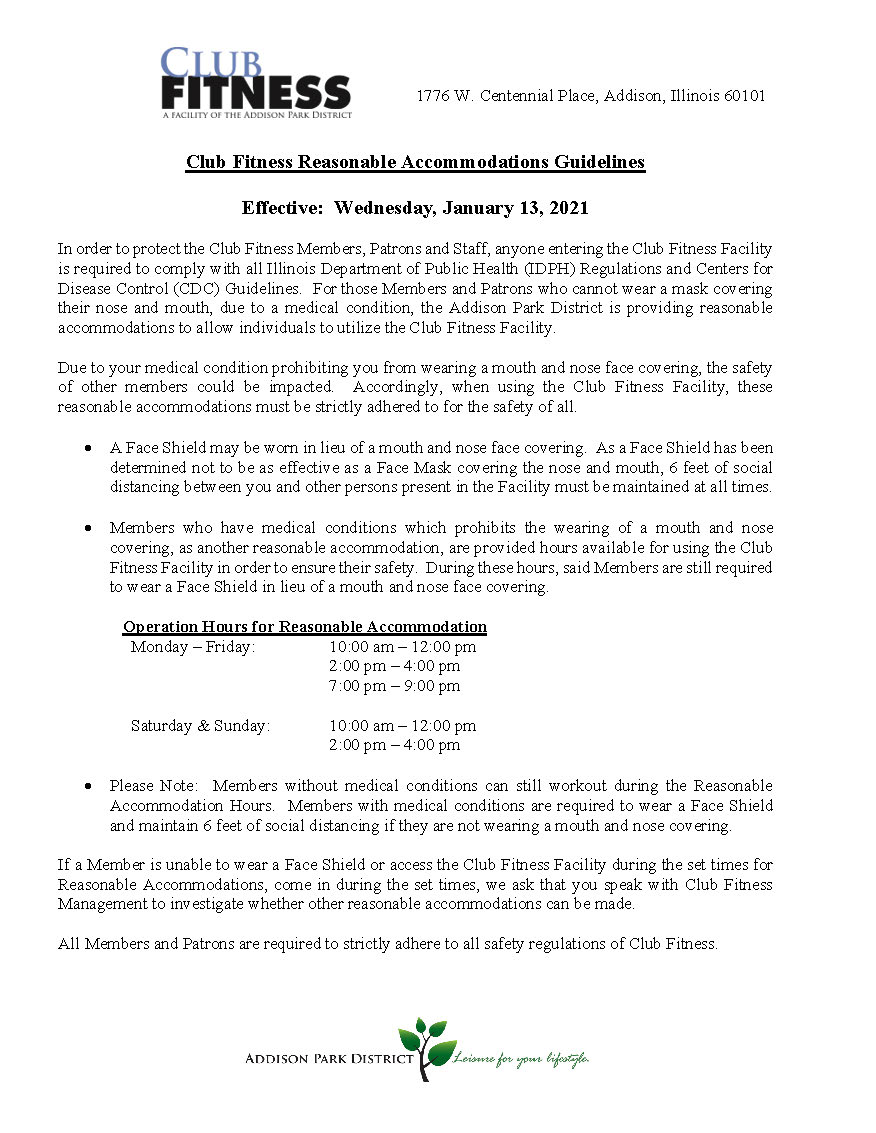 ---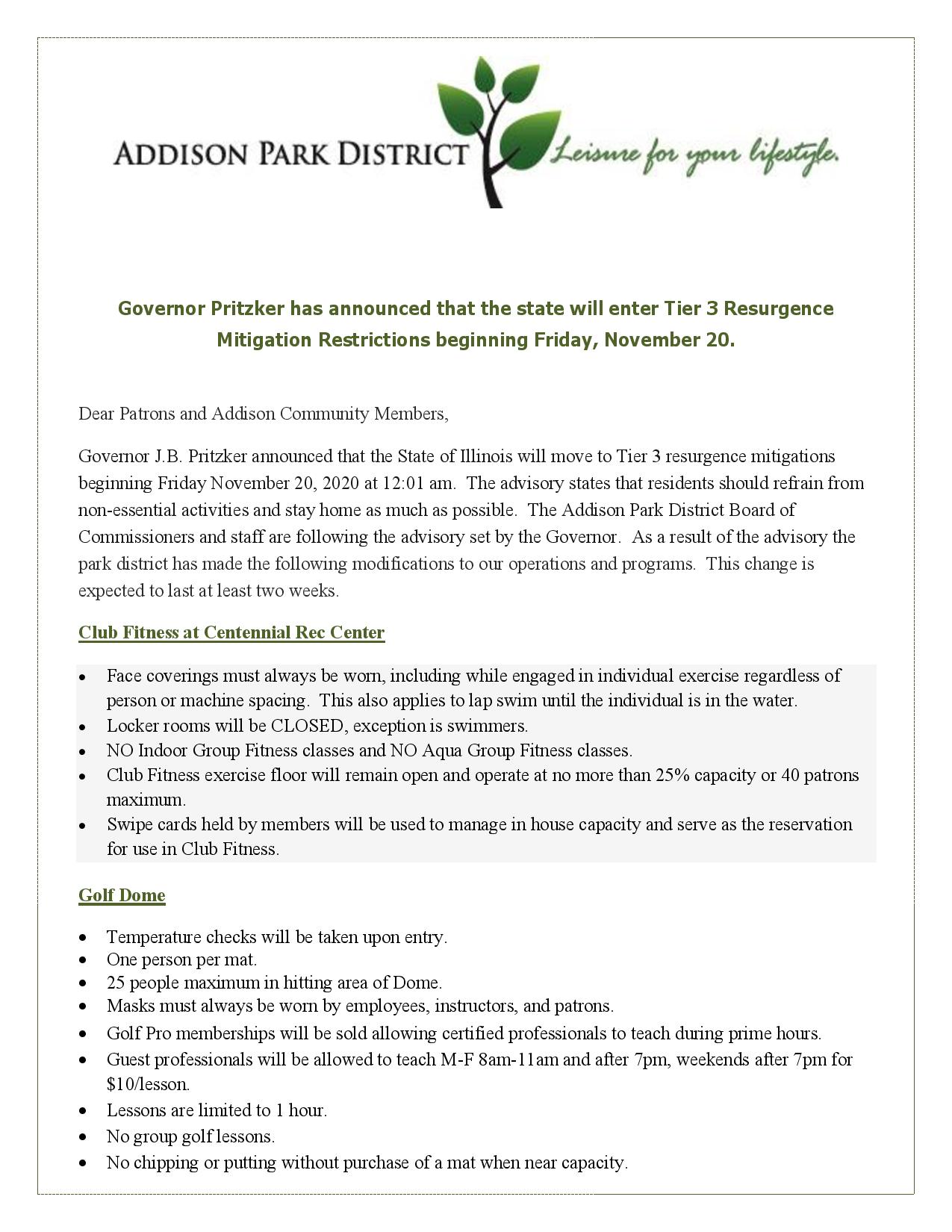 ---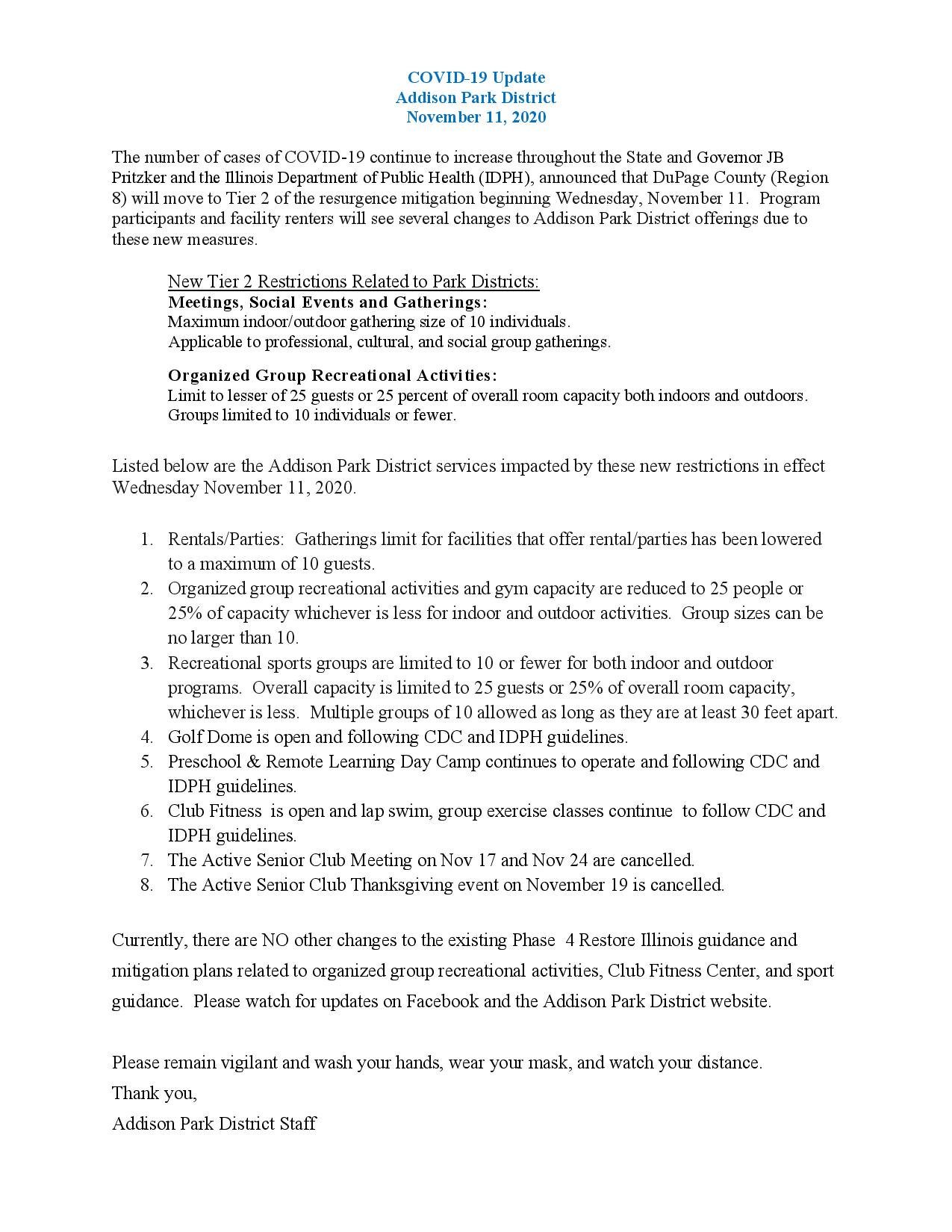 ---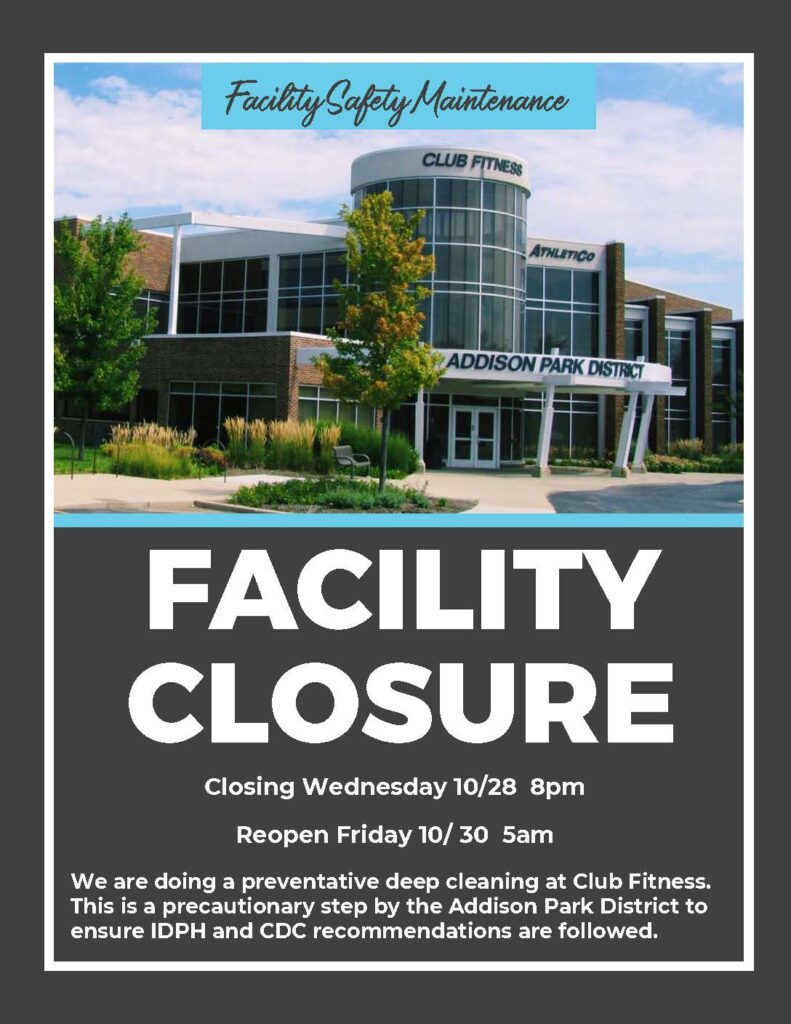 ---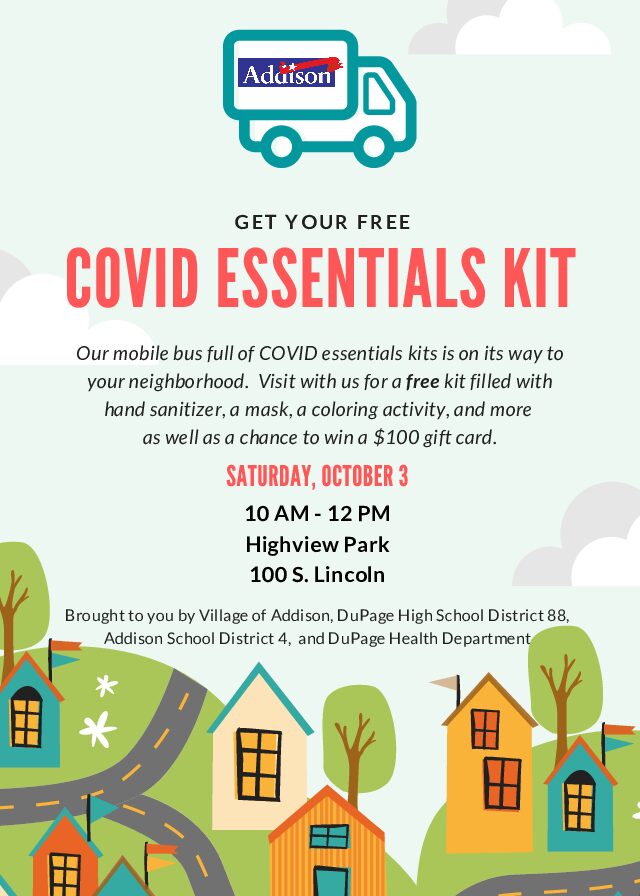 ---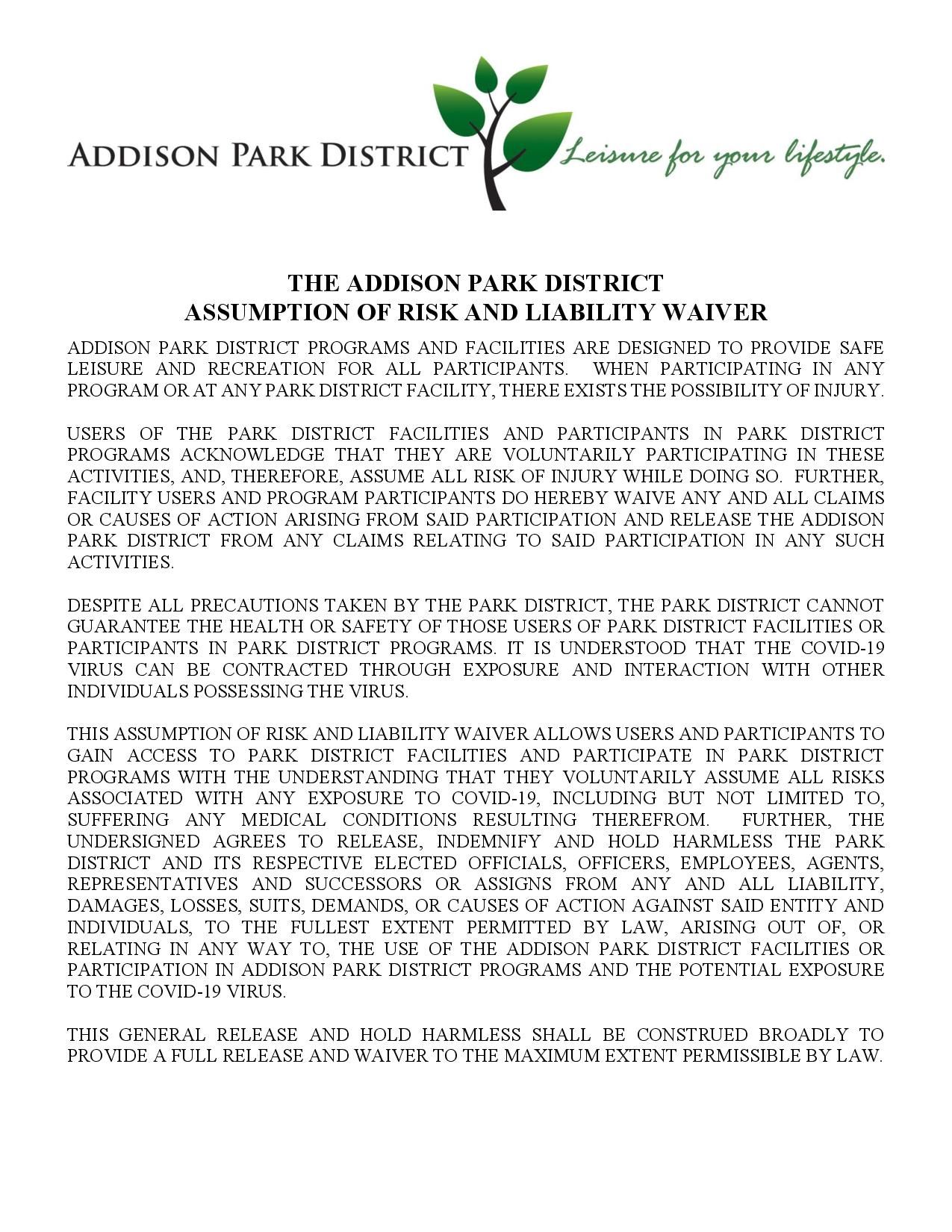 ---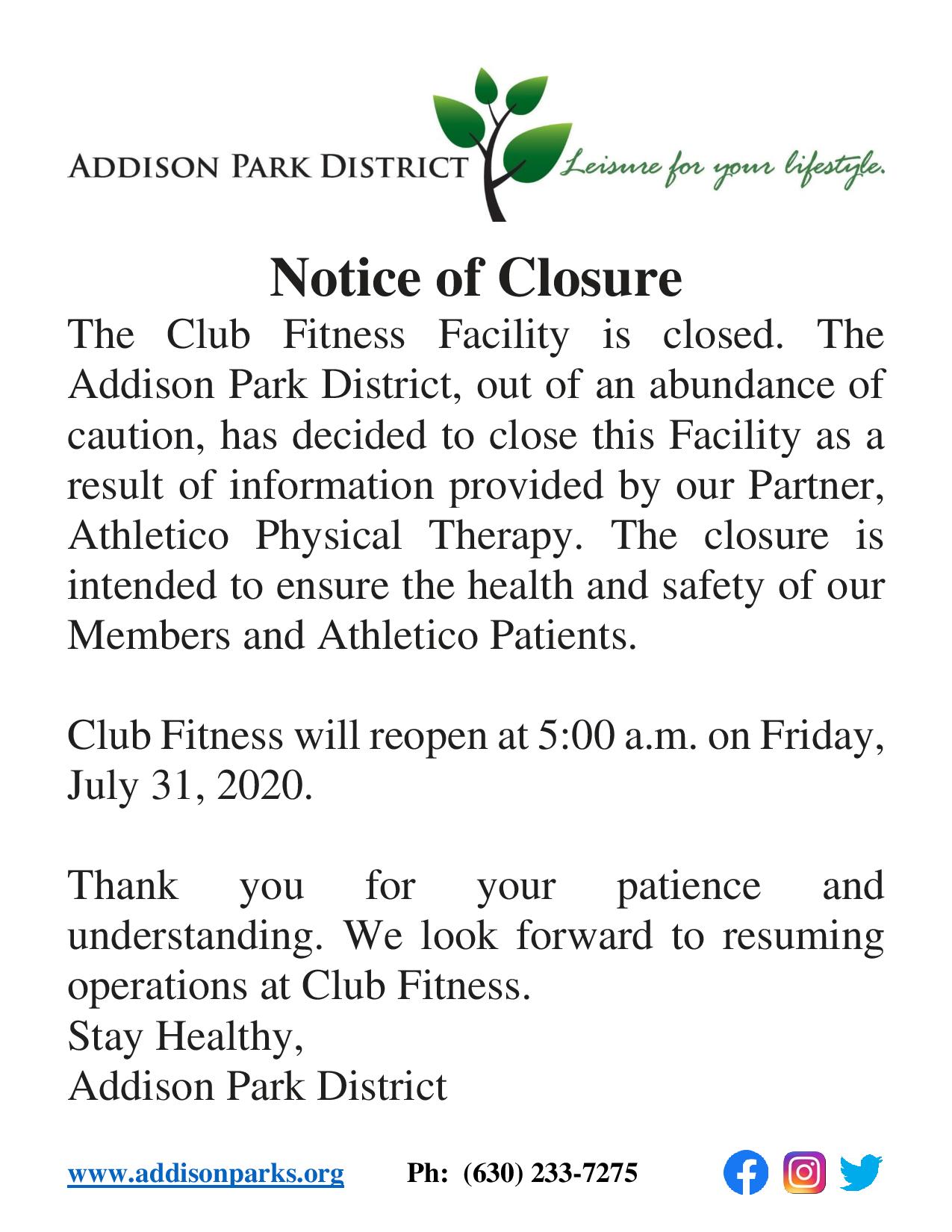 ---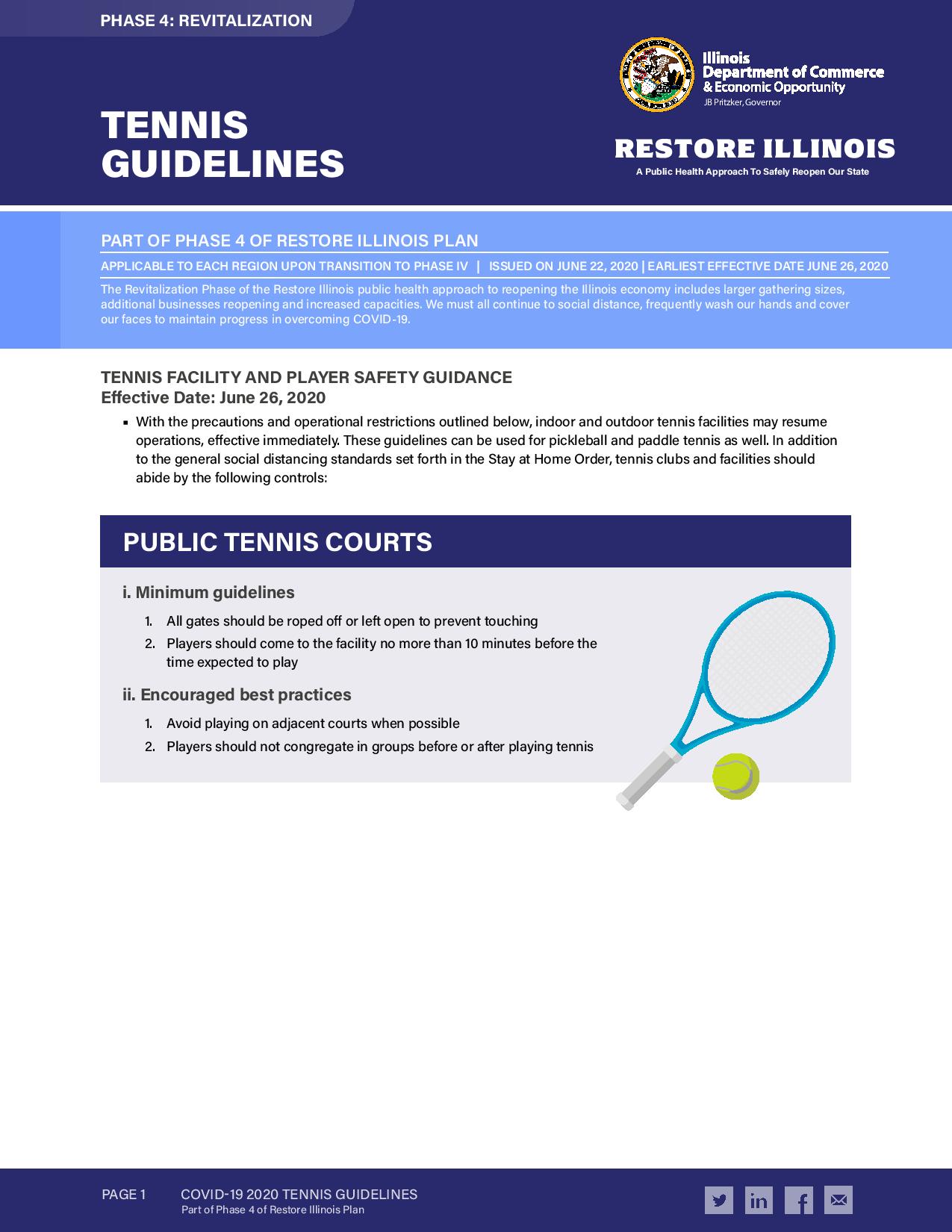 ---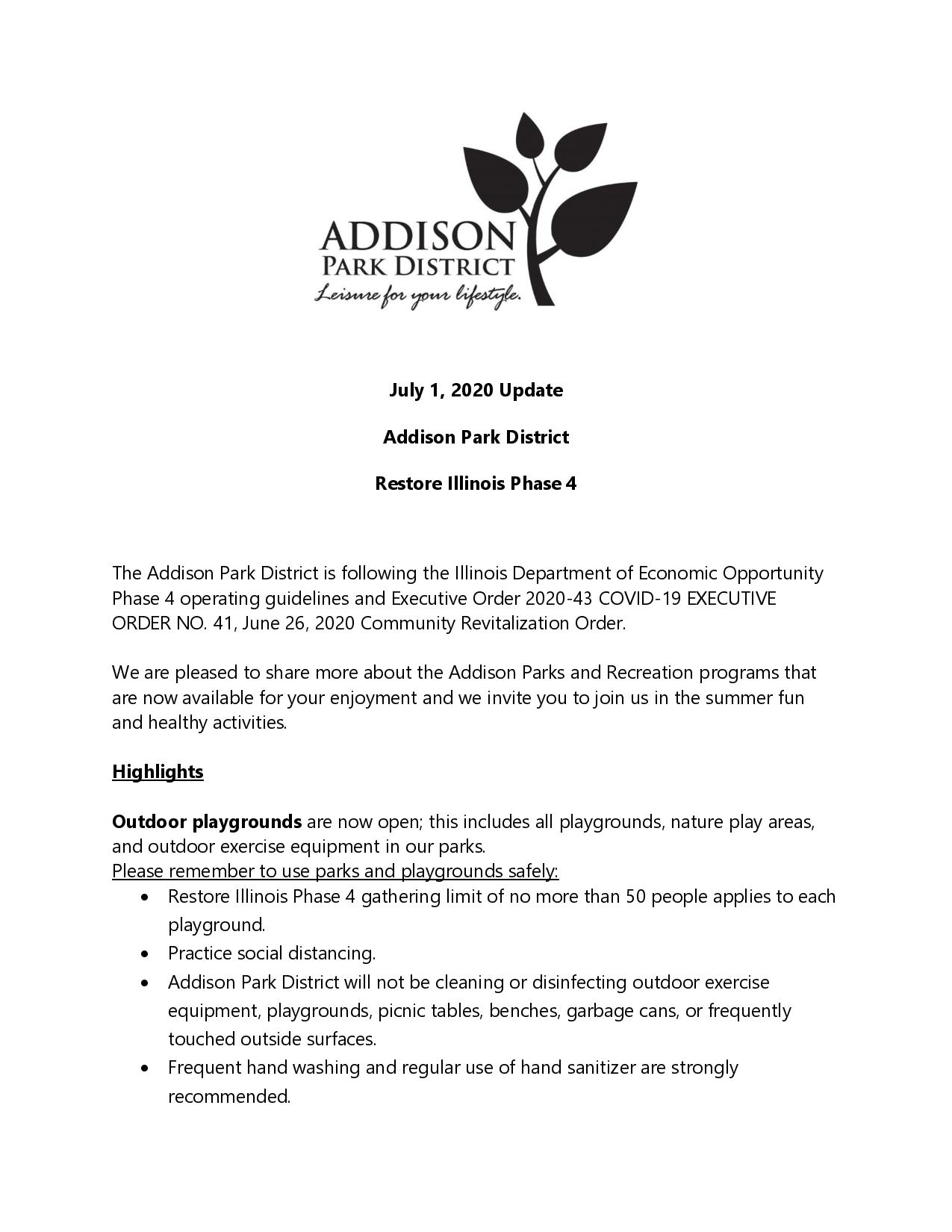 ---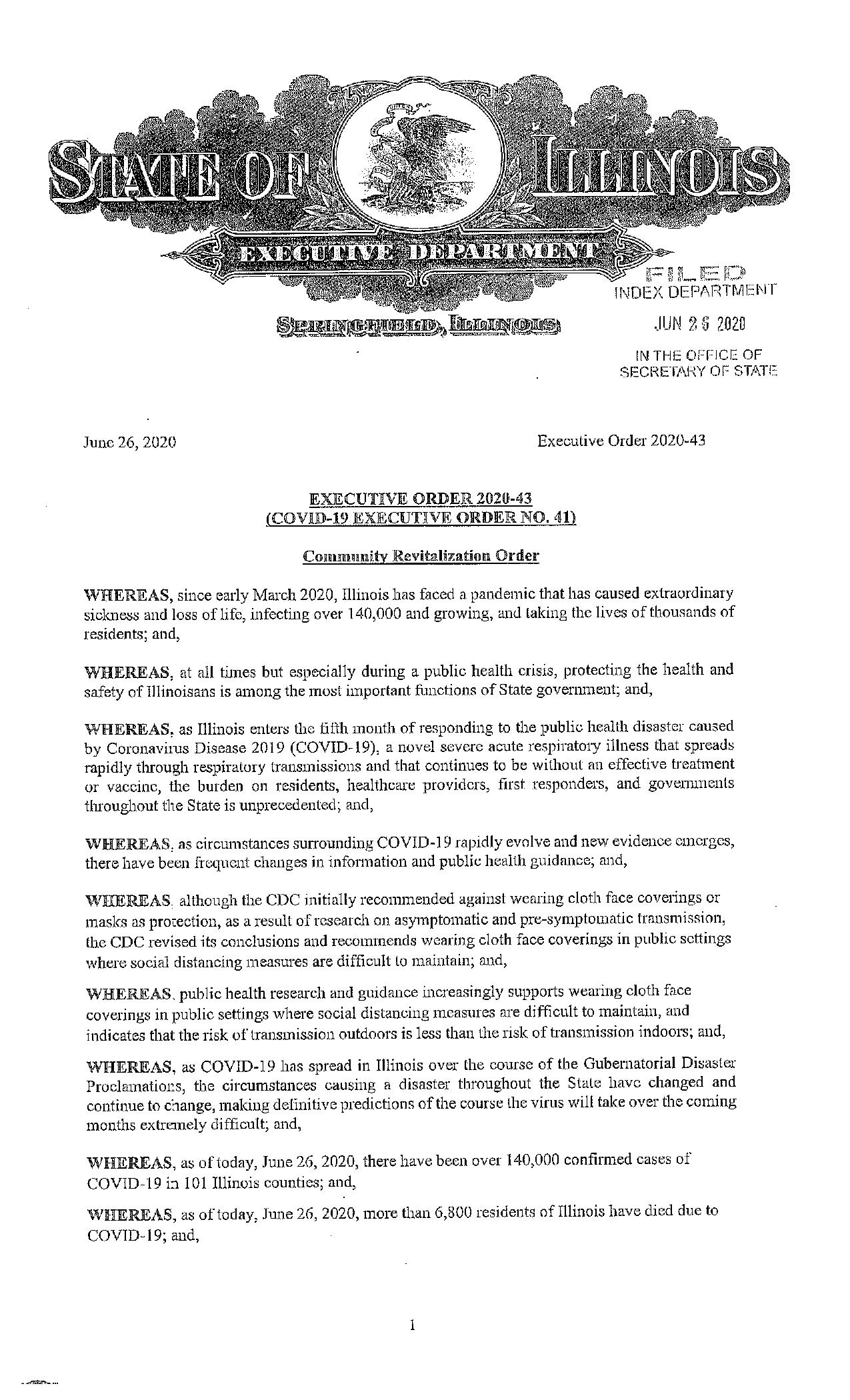 ---
We continue to follow the guidelines in the State of Illinois Restore Illinois Plan, and the Park District team is developing plans for the return of programming and reopening of facilities as detailed in Phase 3-Recovery, which is set to begin Friday, May 29. Refer to the link above for more details.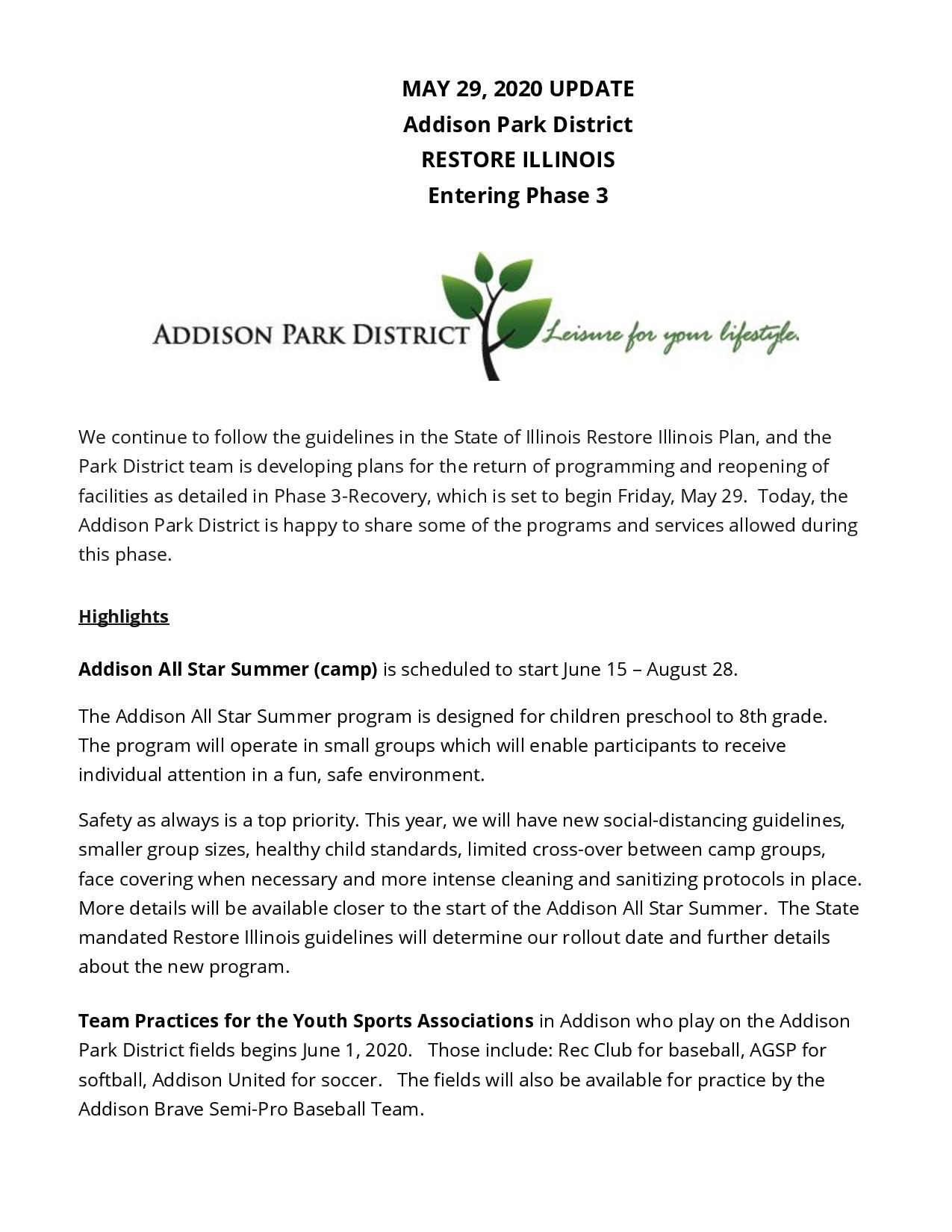 ---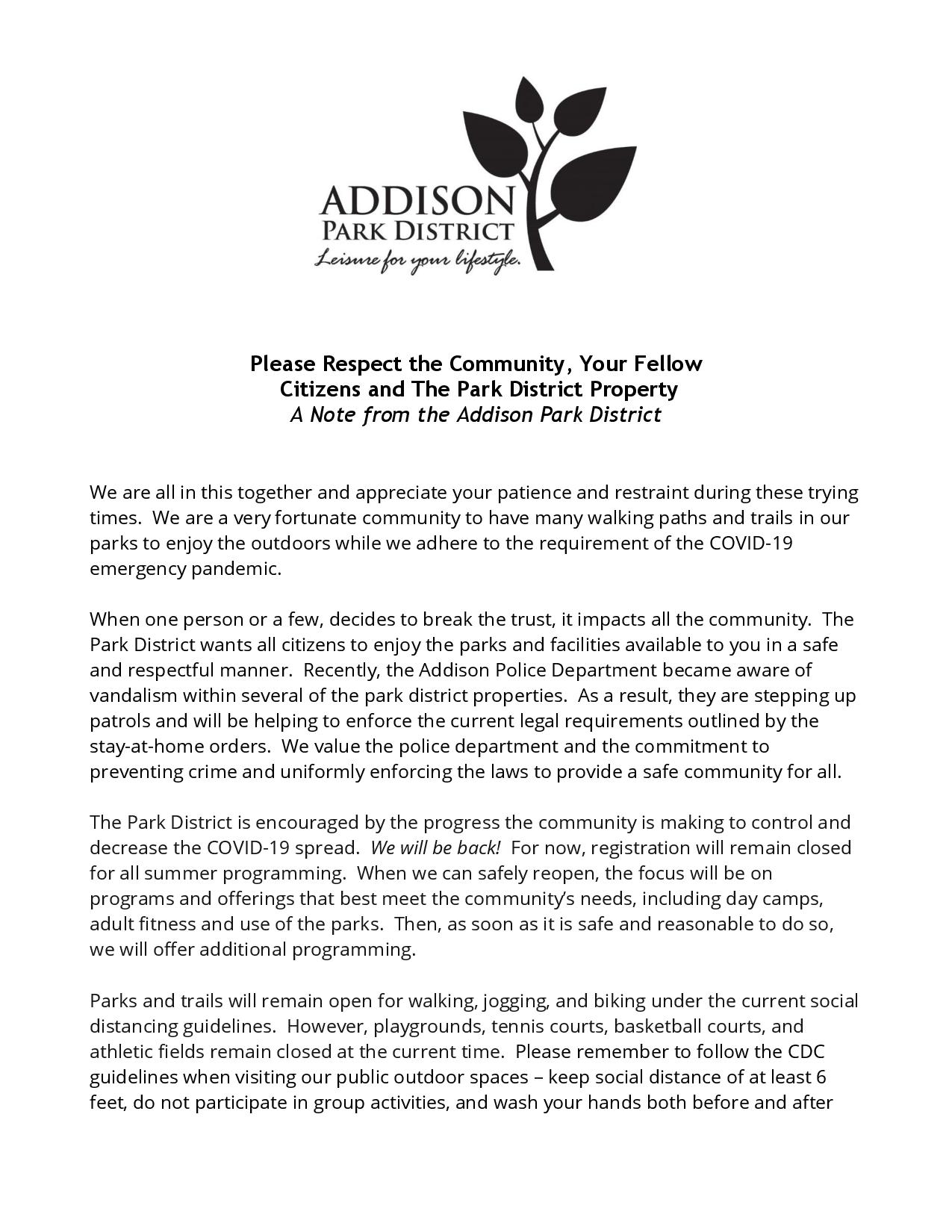 ---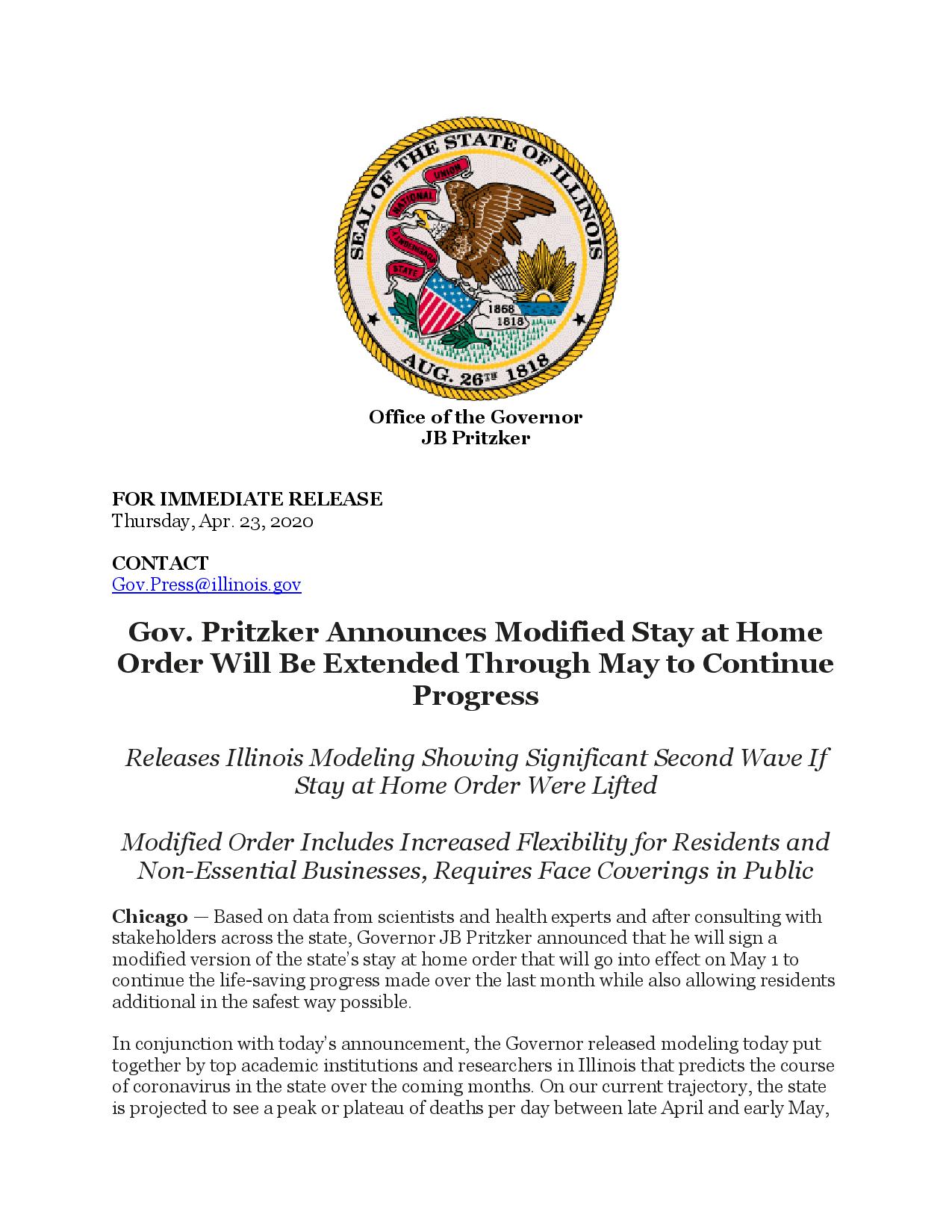 ---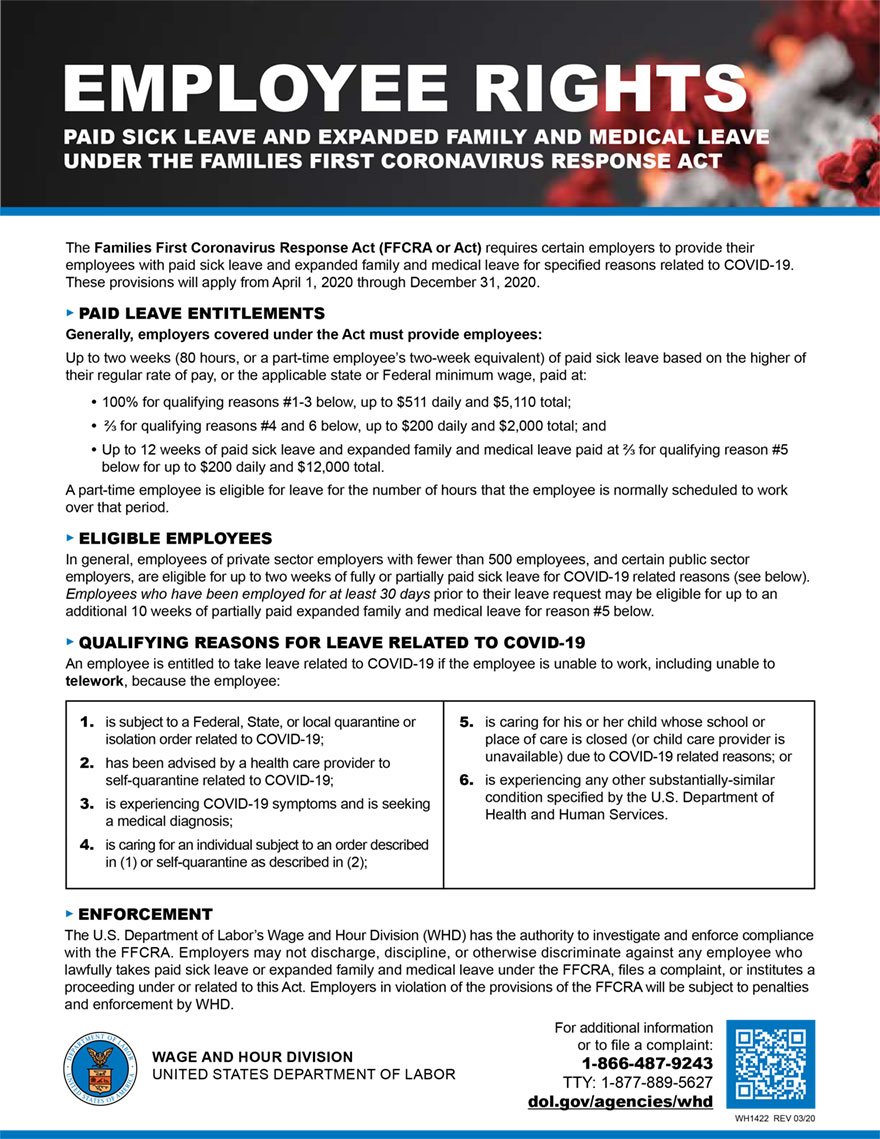 ---
MARCH 31, 2020 UPDATES
All park facilities will be closed through

April 30, 2020.

We will keep posting updates on our website, Facebook, Instagram and Twitter.

All parks remain open; however, all playgrounds and play surfaces (tennis, basketball courts, etc.) are closed through April 30, 2020.

To the extent individuals are using shared or outdoor spaces when outside their residence, they must at all times and as much as reasonably possible maintain social distancing of at least six feet from any other person.

Pursuant to current guidance from the CDC, any gathering of more than ten people is prohibited unless exempted by this Executive Order.

The District's Summer Brochure will be delayed to help provide the most accurate information. We do not have a definite time of printing and/or delivery.

If you have a current membership to Club Fitness and/or a locker rental, we will add the days we are closed to the end of your membership and/or rental.

Refunds or credits have (or will) be processed for all programs that were cancelled.

Any programs cancelled in the middle of a session will be issues a prorated refund or credit.

For any programs scheduled to run in April and May, refunds will be addressed once our facilities re-open and we determine how many classes were cancelled.
---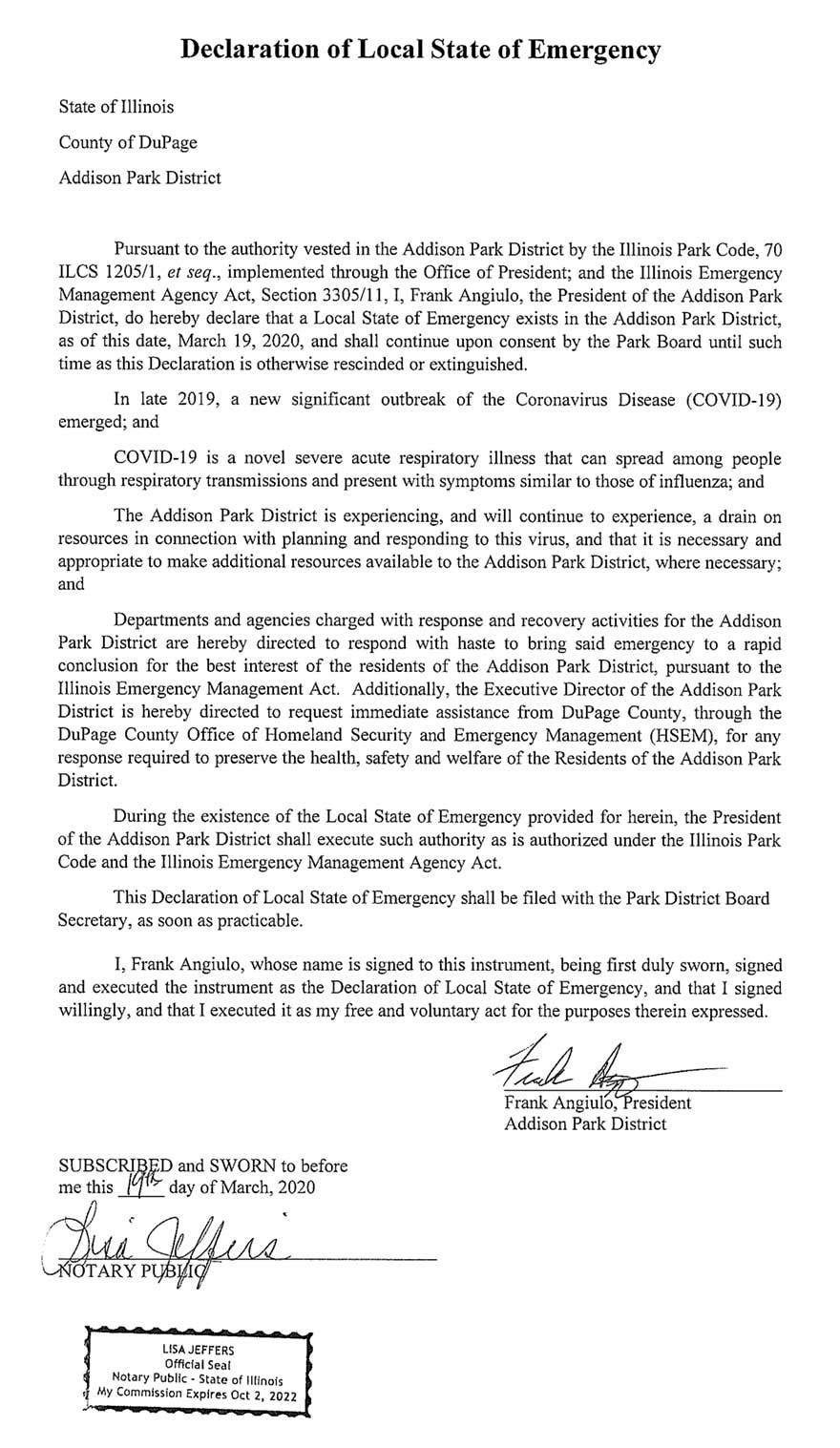 ---
March 20, 2020 – Executive Order 2020-10
EXECUTIVE ORDER IN RESPONSE TO COVID-19
(COVID-19 EXECUTIVE ORDER NO. 8)
WHEREAS, I, JB Pritzker, Governor of Illinois, declared all counties in the State of Illinois as a disaster area on March 9, 2020 (Gubernatorial Disaster Proclamation) in response to the outbreak of Coronavirus Disease 2019 (COVID-19); and,
WHEREAS, in a short period of time, COVID-19 has rapidly spread throughout Illinois, necessitating updated and more stringent guidance from federal, state, and local public health officials; and,
WHEREAS, for the preservation of public health and safety throughout the entire State of Illinois, and to ensure that our healthcare delivery system is capable of serving those who are sick, I find it necessary to take additional measures consistent with public health guidance to slow and stop the spread of COVID-19;
WHEREAS, COVID-19 has resulted in significant economic impact, including loss of income and wages, that threaten to undermine housing security and stability;
WHEREAS, the enforcement of eviction orders for residential premises is contrary to the interest of preserving public health and ensuring that individuals remain in their homes during this public health emergency;
THEREFORE, by the powers vested in me as the Governor of the State of Illinois, and pursuant to Sections 7(1), 7(2), 7(8), 7(10), and 7(12) of the Illinois Emergency Management Agency Act, 20 ILCS 3305, and consistent with the powers in public health laws, I hereby order the following, effective March 21, 2020 at 5:00 pm and for the remainder of the duration of the Gubernatorial Disaster Proclamation, which currently extends through April 7, 2020:
---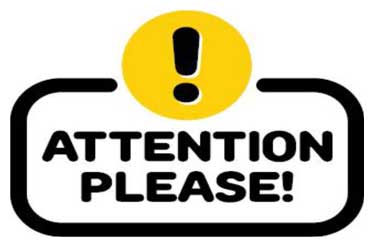 updated: March 31, 2020
In light of the first confirmed COVID-19 infection in DuPage County,

the Addison Park District is closing all of its facilities effective Monday, March 16, 2020 through, April  30, 2020

to help contain the spread of COVID-19. As it is a fluid situation, we will be continuously evaluating the situation daily and the impact as it relates to the District. For District-wide updates, please visit our website at addisonparks.org or follow us on Facebook, Twitter and Instagram. For more information on COVID-19 as it related to DuPage County, please visit dupagehealth.org, call their hotline at (800) 889-3931 or via e-mail at DPH.SICK@ILLINOIS.GOV.