Join the Addison Swim & Dive Team Today!
The Addison Frogs Swim and Dive Team is a competitive program that is part of the DuPage Swim & Dive Conference. This coed youth organization competes with other local Park Districts during a 10 week season. Swim and dive team members are ages 5 – 18 years old and compete with individuals within their age group. Parent participation is an important part of this volunteer-led organization. The season starts the last week of May and continues through the last weekend of July.
Returning Swim Team families will receive information about online registration.
Swim Meets are not mandatory. They will be held Wednesday nights and Saturday mornings.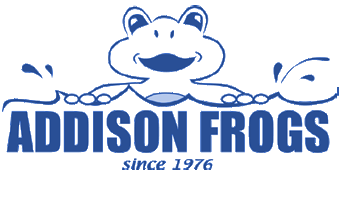 VISIT OUR WEBSITE!
For a complete schedule or more information on the Addison Frogs Swim & Dive Team, please visit: