Show your Park PRIDE with Addison Park District
Environmental stewardship is a prevailing theme for the Addison Park District. Whether you are looking for opportunities to connect with nature, recycling outlets, educational programs, tips on how to "Green Up" your home or business, the Addison Park District provides valuable resources to the community.
Local environmentalists participated in FALL PARK PRIDE on Saturday, Sept. 23 from 9:00 – 11:30 a.m. This community event at Army Trail Nature Center is an opportunity for volunteers to roll up their sleeves to pull invasive weeds, plant flowers. spread mulch, pick up trash – and have fun getting back to nature. An appreciation cookout will be immediately following the event for all volunteers. Call TODAY to register your volunteer group: (630) 233-7275 option 2.
2017 Fall Recycling Extravaganza: Oct. 28
It's time to clean out garages, closets, cabinets, and drawers and bring those purged items to the Community Recycling Extravaganza at Community Park in Addison on Saturday, Oct. 28, 2017, between 9:00 a.m. – 12:00 p.m. Collection items include electronics, cell phones, eyeglasses, American flags, medical equipment, bicycles, musical instruments, books, records, documents to be shredded (5 box limit) and more. For a complete list of accepted, and not accepted, items, click HERE. This drive-thru event is held in the parking lot of Community Park, 120 E. Oak Street.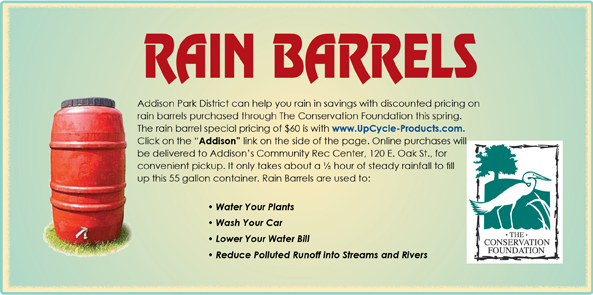 As a result of establishing eco-friendly initiatives, the Addison Park District was recently awarded an EARTH FLAG from SCARCE, a global leader of environmental initiatives. Going green not only makes us better environmental stewards, but it can save green as well. By becoming more energy efficient through lighting retrofits, heating systems upgrades, or building insulation, we can reduce our energy usage and thus our utility costs. By implementing recycling in each facility with our blue recycling containers, we reduce the amount of waste that is sent to landfills.