Overview 
The Before & After School Care program corresponds to the Addison School District 4 Calendar for students in grades Kindergarten through 5th grade.  The program provides your child with a safe, structured environment.  Our experienced staff
focuses on providing a variety of quality activities that enrich the lives of each child that attends. Participants will have designated homework time, play sports, make crafts and go outside. We will be implementing health, nutrition, and fitness into our Before and After School Program. Our program is a proud recipient of the PowerPlay! Beyond School Grant which focuses on energizing today's youth through health, nutrition, and fitness.
The first day of school is August 17, 2023.
Addison Park District provides bus transportation from the host schools
to the students' home schools (parents drop-off and pick-up from the
host schools.)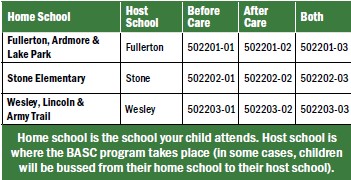 Morning care hours: Late-start Mondays: 7:00 a.m. to 8:30 a.m.; Tuesday to Friday: 7:00 a.m. to 9:15 a.m.  
Afternoon hours are 3:15 p.m. until 6:15 p.m.
LATE START MONDAYS The School District 4 schedule includes late start Mondays. The Before and After School program has instituted a 5-punch card pass and 10-punch card pass option for the program.  Purchase punch cards at either Community Recreation Center or Centennial Recreation Center.
Fees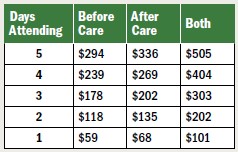 ENROLLMENT PROCEDURES
Register online or in person at Club Fitness or the Community Rec Center.  Any required forms (Emergency Contact Form, medication, etc.) must be delivered to Club Fitness or the Community Rec Center before a child can start the program.  
Consecutive monthly registration can be made in person, via phone (payment with either Visa or MasterCard) or online.  Times and days must be consistent for the month.  Payments can be made as a one-time yearly fee or monthly payments that will be billed the first of each month beginning October 1 (or time of registration if after and ending on May 1.  We have 5 day/wk, 4 day/wk, 3 day/wk, 2 day/wk and 1 day/wk options for AM only, PM only or Both Am & PM.  ALL REGISTRATIONS MUST BE SETUP AS AN AUTOMATIC PAYMENT PLAN THE FIRST OF THE MONTH UNLESS THE YEARLY FEE IS PAID IN FULL.
SCHOOL CLOSING:
The Before & After School program operates on the same schedule as District 4. If the District closes the schools due to weather conditions, the Before & After School program WILL NOT OPERATE.  These announcements begin at 7:00 am on the day affected and can be seen on your local news station and/or internet.
Maximum: 60 participants
For questions about the Before & After School Care Program, please contact Michelle Funk at (630) 656-6206, or by email at mfunk@addisonparks.org
Please fill out the Before & After School Care forms and return them to Club Fitness or Community Rec Center.  
Before/After School Care
Downloads & Forms
• Waiver And Release of All Claims/Photo & Video Release
• Parent Manual
• Emergency Forms
• Dispense of Medication Form
Inhaler/Auto-Injector Waiver