Program Information
Before & After School Care program corresponds to School District 4 calendar designed for those enrolled in Kindergarten thru 5th. Our before and after school care program provides your child with a safe, structured environment. Our experienced staff focuses on providing a variety of quality activities that enrich the lives of children. Enroll your child for the full week or just the days you need and have peace of mind while at work.
For more information please call (630) 233–7275 and to register please stop in-person at Community or Centennial Recreation Center to fill out proper forms and make payment. Registration for 2020-2021 Before & After School Care begins May 1st.
Program Location
Fullerton Elementary: Fullerton and Ardmore (bussed) students
Stone Elementary: Stone students only
Army Trail Elementary: Army Trail, Lincoln (bussed), and Lake Park (bussed)
Wesley Elementary: Wesley students only
Please see seasonal park district brochure for more detailed information regarding each of the day camp programs.
Hours of Operation
Before Care Drop-off
Monday: 7:00 – 9:30 am
Tuesday – Friday: 7:00 – 8:50 am
After Care Pick-up
Monday – Friday: 3:15 – 6:15 pm
See parent manual for the site door number to use at drop-off/pick-up and late pick-up fee.
Attendance
Parents/guardians are required to sign their child(ren) in and out of the site.
Sign-in/out procedures are in place to monitor attendance. In the event of an emergency, the attendance form is the quickest way to account for the participants' onsite.
Parents/guardians are responsible for notifying the Addison Park District if additional authorized adult will be picking their child(ren) up from the site.
Students will be released to authorized adults only. Always be prepared to provide photo identification when picking up your child(ren). 
Before & After School Fees and Payment Information
The initial payment is due at the time of registration. Following payments are due the first day of the month from Sept 1 – April 1 (8 payments).
Register for one to five days per week. If payment is not made by the last business day of each month a late fee of $15 per month/per child will be added to the account.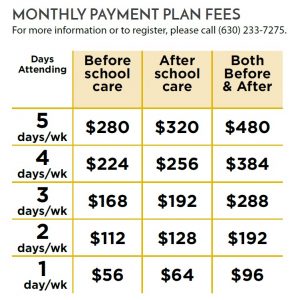 Punch Pass Information
Must be pre-purchased and be paid in full at the time of purchase. Non-refundable and not eligible for discounts.
Pass can be used for both AM and PM sessions. Parents/guardians must notify both the child's school as well as the park district 24 hours in advance of use of a punch pass.
Must be used within the school year they are purchased in and expire the last day of school.
Pass can be used only for normal scheduled school days. Addison Park District offers 1-punch pass ($20), 5-punch pass ($85), and 10-punch pass ($165) options.
School Break and Seasonal Camp Fees
Addison Park District Before & After School Care require a separate registration and additional fee for School District 4 early dismissal, holidays, and teacher institute days. Please locate information about day off fun, half day of fun, and seasonal day camp programming in the park district brochures.
Behavior Guideline Expectations
Keep hands and feet to self
Talk to others with respect
Listen attentively when spoken to
Treat all park district materials and property with care
Be safe while having fun!
Discipline Procedure
When a child has trouble following the expectations of the camp, park district staff will verbally request that the behavior be discontinued. If it continues, staff will remove child for quiet time. If child continues behavior continues then the behavior/misconduct form(first offense)  is filled out by staff and parents are notified.
If a child has difficulty following camp expectations on a daily basis, a parent will be contacted. If necessary a conference will parent, child, and program staff will be requested. Behavior/misconduct form will be filled out again for second offense.
If a child continues to have trouble following the camp's expectations and the above procedures have been followed, a parent will be contacted and immediately request to remove child from the program. Behavior/misconduct form filled out for third offense. Parent conference will be requested.
In extreme cases of unacceptable behavior that is physically threatening to other participants or staff, the park district reserves the right to immediately remove participant from program. There will be Zero Tolerance policy if there are any verbal threats or actions toward physical well-being of other campers and staff. This behavior will result in immediate dismissal of the camper. *No refunds will be issued if your child is removed from the program for disciplinary reasons.*
Please see the Before & After School Care Download/Forms for forms and paperwork that needs to be filled out at time of registration.
Before/After School Care
Downloads & Forms
• Before/After School Care flyer
• Parent Manual
• Emergency Forms
• District #4 Calendar