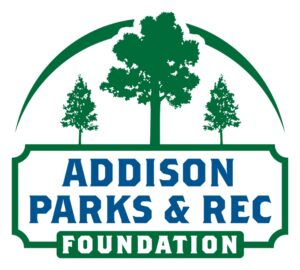 The Addison Park District Parks and Recreation Foundation was founded on June 18, 2003, as a not-for-profit organization. Its mission is to support and enhance the Park experience for all Addison Park District residents through tax-deductible donations and fundraising. The Addison Park District Parks and Recreation Foundation's purpose is to provide financial aid for park district participants, as well as provide volunteer opportunities and recognition.
The Foundation has successfully sponsored several fundraising events, including golf outings, a family night miniature golf adventure and the longest drive competition at the Links & Tees golf dome. Proceeds from these events are used to provide funding for the  scholarship program that supports individuals and families residing in the district, who wish to participate in park district program activities, and to recognize the contributions of the many volunteers who coordinate park district programs. We invite your participation in, and support of, the Foundation and its activities. For more information, contact the Foundation at (630) 361-2313.
Board of Directors:
Don Jessen, Chairperson
Donald Ortale, Vice-Chair
Marvel Krauter, Secretary
Joe Ariano, Treasurer
Adriana Mena, Trustee
Michael H. Haag, Trustee
Marianne Parisi, Trustee
Dom Corona, Trustee
Chris Pudelek, Trustee
Diana Zarkha, Trustee

DONATE NOW
100% of your donations are currently being used to purchase an "Expression Swing" designed to provide inclusion and the joys of our parks for everyone. Every donation will help the Foundation reach our goal of installing an Expression in an Addison Park in the spring of 2022. All donations are tax deductible. Make checks payable to:
Parks & Recreation Foundation of the Addision
Park District, 120 E. Oak Street, Addison, Illinois 60101
OR
Donate online via credit card by visiting the Foundation web site at:
www.addisonparkfoundation.org – donate now button
OR
Donate online via our Facebook Page at:
www.facebook.com/AddisonParksRecFoundation – donate now button.