The Parks and Recreation Foundation of the Addison Park District was founded on June 18, 2003, as a not-for-profit organization. Its goals are to support, promote and encourage the expansion of educational and recreational opportunities for all residents of the Village of Addison. The Foundation's purposes include encouragement of greater citizen use of resources and services, expansion of the number and variety of educational programs and recreational activities provided to residents within the Addison Park District; and development of financial support for the District.
The Foundation has successfully sponsored several fundraising events, including a golf outing, Scotch Double Candlelight bowling events, a family night miniature golf adventure and the longest drive competition at the Links & Tees golf dome. Proceeds from these events are used to provide funding for the APD scholarship program that supports needy individuals and families residing in the district, who wish to participate in park district program activities, and to recognize the contributions of the many volunteers who coordinate park district programs. We invite your participation in, and support of, the Foundation and its activities. For more information, contact the Foundation at (630) 233-7275.
The 2017 Foundation members are:
Don Jessen, Chairperson
Donald Ortale, Vice-Chair
Marvel Krauter, Secretary
Dean Stathopoulos, Treasurer
Virginia Clark, Trustee
Chip Humes, Trustee
Marilyn Sala, Trustee
Joe Ariano, Trustee
Geri Estvanik, Trustee
Swing for Scholarships golf outing
Bloomingdale Golf Club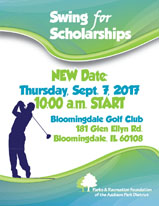 NEW DATE: Thursday, Sept. 7, 2017
Start time: 10:00 a.m. 
Golf/Lunch/Dinner: $130 | Golf/Lunch only: $90 | Dinner only: $50
Registration Form 2017:

THANK YOU to our event sponsors:
Pan American Bank & Trust, Blackbelt Logistics, Americans of Italian Descent, Addison Park District Board of Commissioners, ASG Staffing, Athletico, Century 21 Lullo Real Estate, Senator Cullerton, Empress Banquets, FGM Architects, Finished Basement Group, Humes Funeral Home, Len's Ace Hardware, Muggs & Manor, The PFM Group, Tom Reed Farmers Insurance, Shoeless Joe's Ale House & Grill
---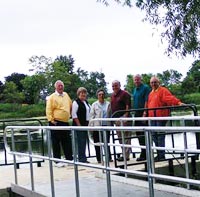 Observation Pier at Army Trail Nature Center
The Foundation donated $20,000 for the purchase of a new fully accessible 10′ x 20′ floating pier. The pier is made of durable long lasting material and is a beautiful addition to the Nature Center.