Club Fitness – Indoor Pool & Aquatics Classes
Indoor Swim Lessons Will Return in September 2018
Swimming Lessons
CLUB FITNESS indoor swimming lessons are available September – April on Tuesday and Thursday nights in addition to Saturday mornings. Lesson times fill up quickly! Please call one month ahead to register your child: 630-233-7275, opt. 3.
Adult Intermediate Swim Technique
These year-round group lessons are coached by our experienced endurance training staff. From first timers just learning to swim to seasoned triathletes wanting to improve their speed and technique, all ages and experience levels benefit from these fun group workouts.
Prerequisites: Attend a complimentary lesson before committing to a full training program. Stop by the pool deck to ask our coaches for more information.
Ages: 16 years and older
Location: Club Fitness indoor pool
Fee: $44Member/$62NM
---
Private Swim Lessons
These 30-minute lessons are open to people of all ages and abilities, including participants with special needs who want to learn basic skills or refine strokes. 
Ages: All ages
Location: Club Fitness indoor pool
Fee: $25 for 1 session; $115 for 5 sessions; $210 for 10 sessions
Days and times are personalized to meet your schedule.
Please allow up to 5 business days for your instructor to contact you.
---
* FAMILY OPEN SWIM: OCTOBER – APRIL only *
SATURDAYS: Noon – 4:00 p.m. | October 7, 2017 – April 28, 2018
$5.00 per visit ($4/child/senior rate) FREE to Club Fitness members
*Parents must be in the water with their children under 12 years old at all times. Access to sauna, steam room, and whirlpool is prohibited.
*SCOUT GROUP SWIM SUNDAYS *
Are you looking for your aquatic merit badge? Club Fitness aquatics staff can lead your scouts through a day of aquatic safety activities. We can customize a program to fit your needs or use our own safety program. This program is designed for scouts in Indian Guides, Indian Princesses, Brownies, Cub Scouts, Webelos and other young scouting groups. This program is not designed to meet the requirements of the Boys Scouts of America Aquatics Badge.
Scout Merit Badge Days can be booked on Sundays between 3-5 PM
A maximum of 10 scouts can be accommodated and all scouts must be accompanied by a leader.
All pool rules apply during Scout Swim. The Fee is $5 per scout.
*SILVER SWIM*
Active seniors can drop-in and swim at the Club Fitness heated pool. Join us year round! Every weekday from Noon – 2:00 p.m. for only $4.00 per visit.
Club Fitness
Indoor Pool
1776 W. Centennial Place
Addison, IL 60101
Phone: (630) 233-7275, option 3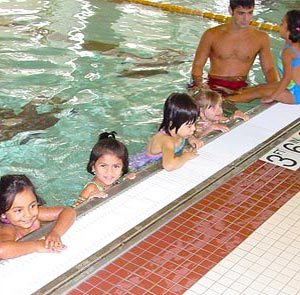 Club Fitness'
Indoor Pool Party
Indoor Pool Party: You can splish splash all year long with a fun indoor pool party. It's your choice at Club Fitness – rent either the pool or a party room and the pool for your party. Customized pool packages are available. Pool rentals start at $65/hr. For more information, call Erin Chapa at (630) ADD-PARK.