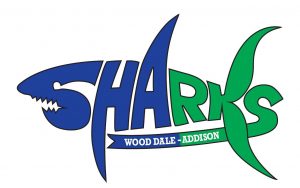 Wood Dale – Addison Sharks Swim Team
The Swim Team is open to any age group through high school. If you can swim one length of the pool, you can join! The Swim Team meets for eight weeks, and all swimmers will participate in several home and away meets. Practice workouts include instruction in stroke technique and flip turns. The Wood Dale/Addison Sharks Swim Team complies with the DuPage Swim and Dive Conference regulations.
Register by May 6 and receive a FREE team swim cap!
Registration Information
Registration begins April 10
Registration is done in-person at the Wood Dale Park District Recreation Complex
Birth certificates are required for new swimmers only. The front desk staff will make a copy at registration.
Refunds will not be given after June 2.
Registration Fees
Program Fee: $180 per swimmer
Parents' Club FUNd Fee: $50 per family
Refundable Volunteer Deposit: $70 per family
*Parents' Club FUNd Fee & Refundable Volunteer Deposit must be paid in the form of a separate check
Do you want to learn more about Swim Team before registering?
Members of the Parents' Club will be available to discuss the Swim Team in-person at the Recreation Complex on Wednesday, April 12 from 6:00 – 8:00pm and Saturday, April 15 from 11:00am – 1:00pm.
Trial Week: May 30 – June 2, 5:30-7:00pm
Trial week allows swimmers to check out the swim team and determine if it something in which they would like to participate. Swimmers must be registered in order to participate in Trial Week. A time trial will be held on Friday, June 
Practices – Begin the week of June 5
Practices will be held at the Beach Waterpark Monday-Friday,7:00 – 10:00am. There will be different time slots for each age group. Time slots and a specific schedule will be provided after registration when numbers in each age group are determined.
VISIT OUR WEBSITE!
For a complete schedule or more information on the Wood Dale – Addison Sharks Swim & Dive Team, please visit: