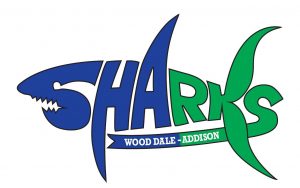 Join the Wood Dale – Addison Sharks & Dive Team Today!
Your Wood Dale-Addison joint board has been working hard to combine two great organizations in order to create a new, stronger swim Team… and from that work the Wood Dale Addison Sharks was born!

The 2022 swim season is back!

Your board will continue to work to ensure we have a solid joint effort to ensure SUCCESS for our swimmers in the 2022 season. Please stay safe and healthy.

REGISTRATION INFORMATION Program: Sharks Swim Team 2022 Online Program Code: 33907AS What is the cost of participating in the Swim Team? The fees for participation in the Swim Team are: Program Fee $140 (same as last year) Parents' Club Fee $ 25 per child (decrease from $50) Facility Surcharge $ 42 (less than the cost of the annual pass cost of $49) Total Cost per child: $207 Registration can be done online at www.wdparks.org or in-person at the Recreation Complex, 111 E. Foster Avenue, Wood Dale. The front desk is open 8:30am – 7:00pm, Monday – Friday. Each registrant should bring their birth certificate with them to register at the Recreation Complex. The front desk staff will make a copy. If registration is done online, a scanned copy may be emailed to ichernitska@wdparks.org. For questions, please contact Brittany Lynam, Recreation Supervisor 630-648-0858. Email: blynam@wdparks.org
VISIT OUR WEBSITE!
For a complete schedule or more information on the Wood Dale – Addison Sharks Swim & Dive Team, please visit: