Preschool Program
Location: Centennial Rec Center, 1776 W. Centennial Place, Addison IL, 60101 Phone: (630) 233-7275, option 3
Please note that registration is taken in-person at Centennial Recreation Center (Club Fitness) or by phone at 630-233-7275 ext. 3.  Please see links to the required paperwork below.  
The Addison Park District preschool program curriculum reflects the Illinois Early Learning and Development Standards. Please visit www.Illinoisearlylearning.org for more details. Our program helps children develop prekindergarten skills, including letter / name recognition, listening, healthy habits, cooperative play, fine motor, and socialization skills. The experiences are both educational and recreational, which aid in social, physical, intellectual, and emotional growth.  Your child will build self-esteem and confidence, develop readiness skills, learn in a nurturing environment, explore new horizons and gain a sense of independence.  Registration opens Thursday, March 16th, 2023, for the 2023 – 2024 school year. 
Payment Plan: Initial payment is due at the time of registration. Auto payments are processed the first day of each month from October 1 – May 1. The payment plan is eight equal payments.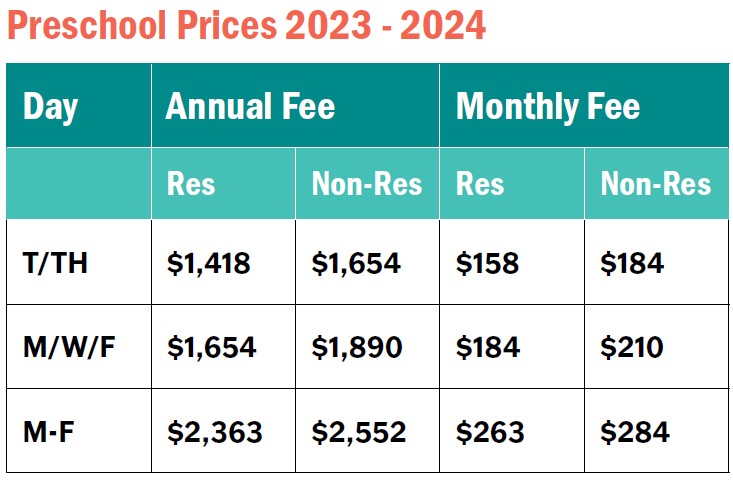 To Register: Registration is taken in-person at Centennial Recreation Center (Club Fitness) or by phone at 630-233-7275 ext. 3. Visit www.addisonparks.org for required paperwork due prior to first day of program.
Discover what our preschool has to offer at one of our Preschool Open Houses held twice per year at Centennial Recreation Center. Bring your little one with you to meet the teachers, learn about our curriculum, see the rooms, and have your preschool-age child experience a little of what our program offers. 
2.5  Year Old Preschool
This program provides an opportunity for 2.5-3 -year-olds to enhance their social, physical, and creative development. 2.5-3 year-old preschoolers will be introduced to letters and number association, as well as learning about the calendar and the seasons. There is also a strong emphasis on the development of socialization skills and becoming comfortable in a classroom environment. Fine motor skills and listening skills will continue to progress in this class through crafts and songs. Children must be 2.5 years old on or before September 1, 2023. 
3-Year Old Preschool
Children will grow socially and emotionally through creative art, activities, songs and cooperation.  3-year-old preschool emphasizes color recognition, shapes, letters, numbers, social play, the calendar, weather, days of the week and physical coordination.  Children must be 3 years old on or before September 1, 2023. Pull-ups™ are allowed. 
4-Year Old Preschool
Prepare your child for kindergarten!  Emphasis is on positive self-images and preparation for future learning.  Structured and unstructured activities will prepare your child socially, emotionally and physically.  Children will begin writing their names and learning letter sounds. Children must be 4 years old on or before September 1, 2023. Children must be potty trained.
For questions about our Preschool Program, please contact Katherine Schmidt at (630) 656-6209, or by email at kschmidt@addisonparks.org
Centennial Rec Center is a wheelchair accessible facility.
REQUIRED FORMS 
Preschool Supply List 2023-2024
APD-Dispensing-Medication-Waiver